The role of the SoilScapes dataset in conservation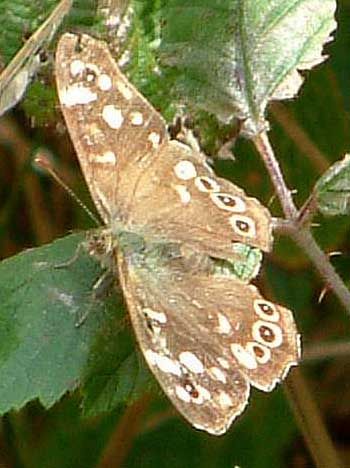 The Centre for Environmental & Agricultural Informatics (CAEI) in its role of custodian of the national soil archive, which is a collection of data held since 1939, has provided soil data and soil data interpolation to a wide range of interested clients including scientists, governments, conservation experts and planners. One of the newest products from the NATMAP range is NATMAP Soilscapes. Soilscapes is a simplified version of NATMAP tailored to provide extensive and concise soil data, at a scale of 1:250,000, that is easy to interprete and is applicable to the landscape. Designed primarily to aid specialists who require knowledge of the underlying soil but for whom soil interpretation is not specifically part of their specialisation.
For the past two years the Bedfordshire and Luton Biodiversity Recording and Monitoring Centre (BRMC) have held a license to use the Centre for Environmental & Agricultural Informatics (CAEI) Soilscapes GIS data layer. BRMC, which is part of the Wildlife Trust, is a not-for-profit service which collects, collates, manages and disseminates quality information about wildlife and habitats. They promote themselves as the "one-stop shop" for biodiversity information within Bedfordshire.
But where does Soilscapes fit in? The BRMC have identified three specific uses for the Soilscapes data within their activities: advising, planning and efficient surveying.
Using Soilscapes to advise decisions
Soils are an important factor in accessing the suitability of an area for a particular habitat and Soilscapes can assist when making a range of biodiversity decisions. The BRMC were asked to comment on a programme being developed to highlight areas which were suitable for habitat creation/re-creation around existing reserves. The Soilscapes dataset was used to analyse if the programme produced suggestions that were located on appropriate soil types. Soilscapes was also used to advise the Wildlife Trust when they were considering purchasing land. Soilscapes enabled a quick overview of the area being considered showing what soil types covered the area and indicating which habitats best suited these soils. It also helped reveal where linkages between soil, and therefore habitat, specific reserves may be possible. A similar approach was used in the Flit Valley project in Bedfordshire, where linkages between and buffering of important biodiversity sites in the valley were considered in order to create a green corridor across the middle of the county. This provided for larger habitat resources being established with greater populations which are more sustainable. The Soilscapes data was used to envisage where the best linkages between sites might be sited and to predict the habitats that might develop on those sites.
Using Soilscapes to plan for biodiversity
An important role for the BRMC is planning ahead and having a vision for biodiversity in Bedfordshire that is achievable and sustainable. One way of realising this is through mapping. The BRMC were involved, as part of the Bedfordshire Biodiversity Forum, in producing a strategic biodiversity opportunity map called 'Rebuilding Biodiversity' which has been integrated into Bedfordshire's green infrastructure plan. Soilscapes was used to help refine the habitat opportunity areas suggested by the county's ecologists. For example, where the chalk grassland opportunity areas went beyond the chalk soils on which they occur they were reallocated to neutral grassland. This enabled a more sensitive reflection of the gradation between the two habitats.
Soilscapes was also used by the heathland Biodiversity Action Plan group to identify where heathland and acid grassland creation would be possible. This habitat type could be linked to the 'freely draining slightly acid sandy soils' class in Soilscapes. The BRMC created a map of this soil type to show its coverage within the area of interest, overlaid a map layer of existing areas of heathlands and acid grasslands and then identified potential creation areas. The map helped to focus the group's discussion into the most appropriate areas.
Using Soilscapes to conduct surveys efficiently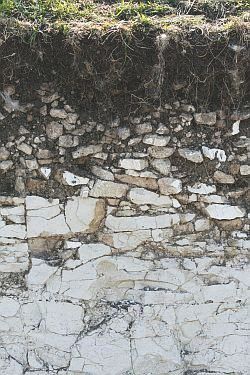 Surveying areas is vital to the work that many conservation organisations do and it is the best way to understand the habitats and wildlife in an area. However, it can be very time consuming and so the ability to efficiently plan the areas that need to be covered is important. In 1992 the UK signed the Convention on Biological Diversity. As a consequence of this the UK has a legal obligation to conserve biodiversity and therefore to write and implement plans to achieve this conservation. As part of Bedfordshire's Biodiversity Action Plan an ongoing assessment of some of the county's plans has been undertaken, including, updating the Lowland Calcareous Grassland Plan, setting targets for the conservation, restoration and creation of calcareous grassland. To achieve this, the current extent of the habitat was mapped. Lowland calcareous grasslands only occur on chalky soils and so Soilscapes was used to define the study area. For each field on either 'Shallow lime-rich soil over chalk or limestone' or 'Freely draining lime-rich loamy soil' the current land use (from aerial photographs) and the land use in 1988 (survey) were assessed. This was used to categorise each field into one of four categories:
maintain extent of existing calcareous grassland;
achieve condition on degraded site;
restore sites which were calcareous grasslands;
expansion areas where the soil type is correct but there is no history of calcareous grassland.
The area of each category was used to set targets in the Biodiversity Action Plan for Bedfordshire. Soilscapes was vital to this project as it enabled a realistic search area to be defined within which any parcel of land had some potential. Without the GIS layer it would not have been possible to conduct the study as the time and expense of site surveys would have proved prohibitive.
From a soil conservation perspective Soilscapes is a useful tool that allows patterns, which may be difficult to see at ground level, to become clearer, it helps envisage where links may be made, it enables effective targeting of survey work and it can add credibility to plans.
More information about BRMC can be found at http://www.wildlifebcnp.org/bedsbionet/brmc/sites.htm

Top