The Voluntary Initiative (VI)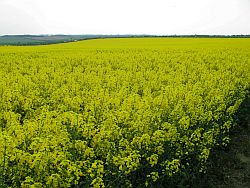 The Voluntary Initiative (VI) undertook a review of LandIS data combined with predictions from the Centre for Environmental & Agricultural Informatics (CAEI) Catchment Information System CatchIS in the Ugie catchment, Scotland, producing and validating a surface water risk assessment map for the pesticide IPU showing the spatial patterns of risk due to the pesticide properties, soil and climate.
The VI are concerning with identifying best practice for the sustainable use of pesticides on agricultural cropland. Oilseed rape, as shown here, often receives early crop sprays of actives such as Carbetimide. LandIS data can be used to identify the fate and behavious of these diffusely applied chemicals.
Top