Soil Associations
0554a FRILFORD
Soil and site characteristics
Deep well drained sandy and coarse loamy soils. Some ferruginous sandy and some coarse loamy soils affected by groundwater. Risk of water erosion.
Geology Mesozoic and Tertiary sands
Cropping and Land Use Cereals, some potatoes and horticultural crops.

Component soil series
| Subgroup | Series name | Percentage | WRB 2006 link |
| --- | --- | --- | --- |
| 5.54 | FRILFORD | 50% | Arenic Luvisols |
| 5.71 | FYFIELD | 15% | Chromic Luvisols |
| 5.54 | FERNHILL | 10% | Arenic Chromic Luvisols |
| 5.54 | STANDHILL | 10% | Arenic Chromic Luvisols |
| 5.73 | ELLINGHAM | 10% | Endogleyic Luvisols |
Covers 239 km2 in England and Wales
Soilscapes Classification
0554a FRILFORD
Detailed Description
This association consists of sandy land over Mesozoic and Tertiary sediments mainly in Surrey, Sussex, Hampshire and Bedfordshire. Most of the soils are brown, stone-free, permeable and well drained but some are occasionally affected by groundwater. Argillic brown sands of the Frilford series are dominant, with coarse loamy Fyfield soils, typical argillic brown earths, the main associates on lower slopes. Ferruginous Fernhill and fine sandy Standhill soils, both argillic brown sands, are found locally. Coarse loamy Ellingham soils, gleyic argillic brown earths affected by groundwater in winter, occur on lower ground. Land on the Lower Greensand in Bedfordshire and south-west Cambridgeshire, near Ampthill and Sandy, formerly mapped as Cottenham association, has mainly Frilford and Fernhill soils, with Fyfield and some Bearsted soils locally on lower slopes. Tadmarton and Banbury seres also occur in places. Podzolized Shirrell Heath soils occur in woodland near Aspley Heath.
In Wiltshire, in what is known locally as the Bromham district, the association is mapped on the Lower Greensand and Corallian beds between Chippenham, Melksham and Calne. The main Frilford and Fyfield soils, are associated with calcareous sandy Great Milton soils on the Corallian calcareous fine sands near Bowood. Near Pentridge, Dorset, a small patch of pebbly Tertiary sands give Cuckney soils on higher ground.
On the Lower Greensand near Tiddington, Wootton and Nuneham Courtenay in Oxfordshire, Fernhill soils are dominant but some Fyfield soils also occur. East and south of Oxford, on Wealden and Portland Beds, Standhill soils are widespread and with Fyfield series are the main subsidiary soils. Some similar but wetter sandy soils are present on the lower slopes of these gently or moderately sloping hills. Aberford soils are found on the higher ground east of Oxford where there are limestone bands. Elsewhere in Oxfordshire, the association is mapped on gently sloping land above the river Cherwell on the Inferior Oolite around Middle Aston. Here shallow coarse loamy Rivington soils are more common than Frilford soils. Near Thame there is a small area on sands within the Kimmeridge Clay where Standhill soils are dominant, with similar but occasionally waterlogged soils common on lower slopes. In Buckinghamshire, between Great Brickhill and Woburn, the soils are mainly of the Frilford and Fernhill series with Fyfield and Bearsted soils locally. Ferritic brown earths of the Tadmarton and Banbury series also occur.
North-west of Fleet in Hampshire, where the Tertiary sand is largely drift-free, Frilford and Fyfield soils occur on gently sloping land. Wetter soils affected by groundwater include Curdridge and Bursledon series on the lowest ground. There are no ferruginous Fernhill soils. The same soils occur on Tertiary sediments east of Southampton, but proportions differ. Fyfield soils are rare, and the coarse loamy Ellingham series usually replaces Bursledon soils on lower ground in wetter areas. There is also a small area of the association on the dissected plateau at Headley Heath, Surrey.

Soil Water Regime
With the exception of Ellingham series, the soils are naturally well drained (Wetness Class I); Ellingham soils are permeable and where drainage measures are installed are also well drained (Wetness Class I). Winter rain passes easily through the soils, but surface run-off sometimes occurs after prolonged heavy rain. Frilford soils have small water reserves so are moderately droughty for cereals and very droughty for potatoes and grass. The other principal soils with their larger fine sand and silt fractions have moderate amounts of available water and so are less droughty.

Cropping and Land Use
All the soils are easy to work, and there are long periods in autumn and spring when the land can be cultivated. The main limitation on farming, particularly on Frilford series, is droughtiness. Cereals are the principal crops. Intensive horticultural crops are grown where irrigation is available. Much of the land especially on the steeper slopes, is woodland. Water erosion of bare soil is common on sloping land, especially where topsoil organic matter contents are small and structure weak. The surface slakes and caps in heavy rain, and seedling emergence is checked. Cultivation pans are formed if machinery is used when the soils are too wet. The soils are naturally acid so they need periodic liming. Crops on component soils with low clay contents have low potassium reserves but those on Lower Greensand containing glauconite generally have good potassium reserves. All component soils need application of phosphorus fertilizers. Copper, manganese, molybdenum, nickel, zinc, boron and cobalt deficiences occur (Archer 1971; Batey 1971), especially in sensitive root and horticultural crops like carrots and cauliflowers, and fruit.

0554a FRILFORD
Typical Landscapes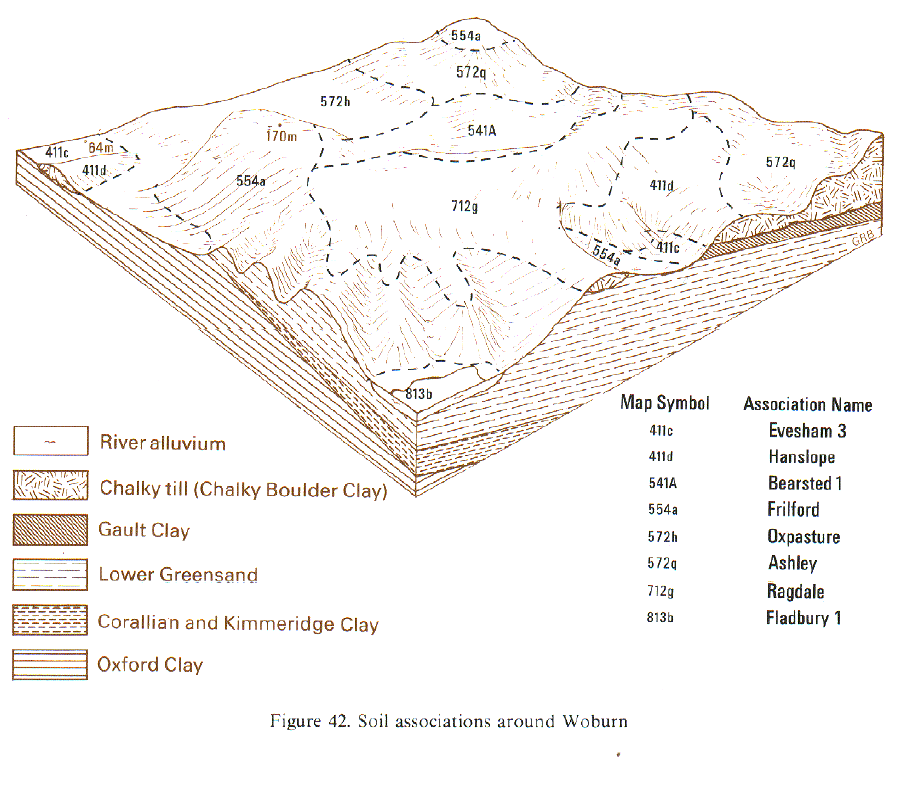 All information Copyright, Cranfield University © 2022
Citation: To use information from this web resource in your work, please cite this as follows:
Cranfield University 2022. The Soils Guide. Available: www.landis.org.uk. Cranfield University, UK. Last accessed 14/08/2022