Soil Associations
0633 LARKBARROW
Soil and site characteristics
Reddish very acid permeable loamy upland soils over sandstone. Associated loamy soils, some with a seasonally wet thin peaty surface horizon and some with thin ironpan but otherwise permeable subsoils.
Geology Devonian reddish sandstone
Cropping and Land Use Upland heath habitats of poor grazing value; permanent grassland where exclaimed coniferous and deciduous woodland.

Component soil series
| Subgroup | Series name | Percentage | WRB 2006 link |
| --- | --- | --- | --- |
| 6.33 | LARKBARROW | 45% | Albic Podzols |
| 6.54 | LYDCOTT | 30% | Endoskeletic Histic Stagnic Albic Podzols |
| 6.51 | BURCOMBE | 15% | Placic Endoskeletic Umbric Stagnic Albic Podzols |
Covers 84 km2 in England and Wales
Soilscapes Classification
0633 LARKBARROW
Detailed Description
Larkbarrow association consists of very acid, permeable podzols and stagnopodzols in rubbly sandstone drift over reddish Devonian rocks. The main areas are on Exmoor and the Quantock Hills on the Hangman Grits, but there are small patches between Dulverton and Wivelscombe on the Pickwell Down Sandstones and on the Mendips over similar rocks. The association is also mapped over Lower Carboniferous cherts in north and west Devon. It covers rolling hills and deeply cut combes rising from near sea level on the north Devon coast to 460 m O.D. on Dunkery Hill. Most is under heather but there is some reclaimed grassland and forestry is important on the Quantock and Brendon Hills (Plate 14). Almost half the soils are coarse loamy ferric podzols of the Larkbarrow series in which a thin organic surface layer and a bleached, very stony subsurface horizon overlie a brightly coloured subsoil. Most of the remaining soils are loamy ferric stagnopodzols, Lydcott series, and ironpan stagnopodzols, Burcombe series, in which the subsurface horizon is gleyed and an ironpan intermittently developed. Rora and Anglezarke series are similar to Larkbarrow soils but with a dark-coloured humus-enriched subsoil below the bleached layer. Loamy stagnohumic gley soils with more intense gleying, Beacon series, are included locally.
The soils are developed mainly in thick stony sandstone Head, derived from reddish, sometimes browner coloured Devonian soils; over chert the Head is brownish or greyish. The soils vary in the degree of development of the podzolic horizons and in surface wetness. Podzols are most common on steep slopes while stagnopodzols and occasional stagnohumic gleys are usually found on hill crests. Morphological indications of wetness in the stagnopodzols is only slight, with relatively thin peaty topsoils and weakly mottled subsurface horizons.

Soil Water Regime
Larkbarrow, Rora and Anglezarke soils are well drained (Wetness Class I) and readily absorb winter rains. Because of stoniness, they have only a small available water capacity of about 75 mm and, despite the high rainfall, most of the podzols are moderately droughty. The wetness regimes of the stagnopodzols on Exmoor, particularly after reclamation are not easily assessed, but they are interpreted as being seasonally waterlogged (Wetness Class III). With a profile available water capacity of 110 mm Lydcott and Burcombe are slightly droughty in most places but are non-droughty where M.D. is less than 50 mm, as on northern Exmoor. Winter rain is absorbed at very moderate rates by the stagnopodzols because of weakly structured and partly indurated horizons at shallow depth.

Cropping and Land Use
Most of the higher, exposed land and steeper slopes are heather moor but at lower levels gentle slopes have been reclaimed for pasture and occasional forage crops, especially near the Bristol Channel and on the chert ridges between South Molton and Barnstaple and south-west of Okehampton. Topsoils are usually still black from the former organic moorland surface horizon and many fields are very stony. The suitability of soils for more intensive grassland use varies considerably. Where reclaimed the soils are suited to pasture with minor limitations of droughtiness. Elsewhere most of the soils are suited to seasonal pasture, seriously limited by slopes of 11 to 25 degrees, and by risk of poaching where wetter soils predominate as on Culbone Hill. Very steep slopes, exceeding 25 degrees, are ill-suited to pasture and carry rough grazing or woodland. In many places moorland persists either because it is common land or because it is owned by the National Trust or other bodies with landscape or conservation interests. Near the Bristol Channel and over much of the Quantock Hills, dry western heath is developed, comprising ling, bell heather, western furze and bristle-leaved bent. Damper patches have cross-leaved heath. Under higher rainfall, as on Brendon Common where moist atlantic heather moor predominates with cross-leaved heath and purple moor-grass largely replacing bell heather. The hill grazing value of these communities is poor, though on the commons heather is burned in rotation to provide for outwintered sheep. The northern Brendon Hills and the Quantocks are partly afforested. On sheltered slopes and in combes Douglas fir is most suited but some Japanese larch and Scots and Corsican pines are grown. Sitka spruce, though present, suffers from droughtiness where moisture deficit exceeds about 80 mm and is better suited to wetter hilltop sites where other species are precluded by exposure. Windthrow on exposed sites is limited to the few wetter soils with peaty surfaces, Beacon series. These soils and the Burcombe and Lydcott soils, need deep ploughing and applications of phosphorous fertilizer at planting to ensure good establishment.

0633 LARKBARROW
Typical Landscapes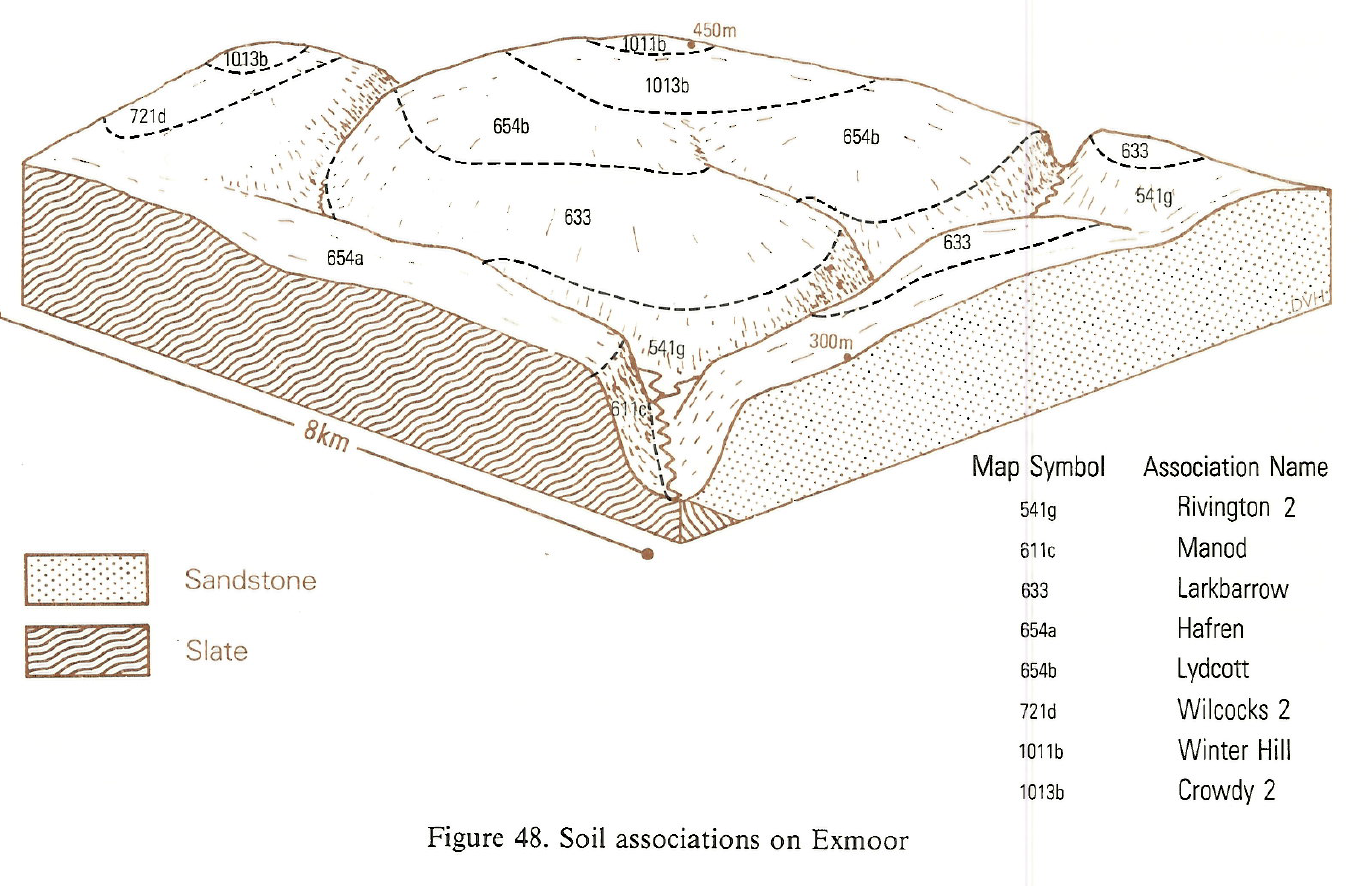 All information Copyright, Cranfield University © 2022
Citation: To use information from this web resource in your work, please cite this as follows:
Cranfield University 2022. The Soils Guide. Available: www.landis.org.uk. Cranfield University, UK. Last accessed 14/08/2022