Soil Associations
0841b HURST
Soil and site characteristics
Coarse and fine loamy permeable soils mainly over gravel variably affected by groundwater.
Geology River terrace gravel
Cropping and Land Use Permanent grassland, deciduous wood land and rough grazing in the South East Region; cereals and horticultural crops in Essex; gravel extraction.

Component soil series
| Subgroup | Series name | Percentage | WRB 2006 link |
| --- | --- | --- | --- |
| 8.41 | HURST | 35% | Endoskeletic Luvic Gleysols |
| 8.41 | SWANWICK | 10% | Luvic Gleysols |
| 8.31 | SOUTHMINSTER | 10% | Eutric Endoskeletic Gleysols |
| 5.73 | BREAMORE | 10% | Endoskeletic Gleyic Luvisols |
| 5.73 | WATERSTOCK | 10% | Endogleyic Luvisols |
Covers 408 km2 in England and Wales
Soilscapes Classification
0841b HURST
Detailed Description
The main soils in the association are gravelly, and are developed principally in low-level river terrace deposits over Tertiary strata. The association is mapped on the north bank of the Thames east of London and in many of its tributary valleys. It also occurs in Dorset and Hampshire along the Avon, Stour, Frome, Beaulieu and Lymington rivers and is extensive near the rivers Blackwater and Crouch in Essex. Most land is low-lying and level or gently sloping. Coarse loamy over gravelly Hurst series, typical argillic gley soils, predominate but Southminster series, typical cambic gley soils, with flinty fine loamy upper layers and coarse loamy Swanwick series, typical argillic gley soils, are also widespread. Coarse loamy over gravelly Breamore soils and fine loamy Waterstock soils, both gleyic argillic brown earths, are found where groundwater levels are lowest, often nearest the river. The wettest soils, at the borders of terraces on receiving sites adjacent to higher ground, include coarse or fine loamy over gravelly humic gley soils. Loquiers and Wickham series are present on slopes between river terraces.
In Essex, the soils are developed principally in fine loamy drift over river terrace gravels which rest at depth on London Clay; Southminster soils are locally more common than Hurst soils. The gravels have been disturbed by cryoturbation causing variation in soil depth and a close pattern of gravelly and non-gravelly soils. Slightly stony Shabbington and Swanwick soils are common. Breamore and Waterstock soils usually occur on the highest land. Well drained coarse loamy over gravelly Hucklesbrook soils are found in places on the floodplain terrace, and red-mottled (paleo-argillic) Hornbeam soils occur on small areas of Boyn Hill terrace south of Upminster. Wickham soils are present on slopes where the drift thins over the underlying London Clay. The land around the Crouch estuary has been surveyed in detail by Sturdy (1976) who included Hurst soils with the former Canewdon series. In Dorset they are found along the Avon, Stour, Piddle and Frome rivers.
The association is distributed along the Kennet, Loddon, Whitewater, Blackwater, Wey and Colne valleys, with a few patches in the Thames valley near Hounslow. The largest area is south of Reading, where the soil pattern has been described by Jarvis (1968). At Hounslow Heath, on the Taplow terrace of the Thames, the soils are mainly gravelly throughout but seasonally waterlogged soils with reddish subsoil mottles and contorted layers containing flints are also widespread. In Hampshire, the soils are developed where river terrace deposits overlie Barton and Headon Beds. The predominant soil varies from place to place and is either Hurst or Southminster series. Shabbington and Swanwick soils with less flinty subsoils are common associates, and Wickham soils occur on slopes where the drift thins over underlying clays. Breamore and Waterstock soils are less common than elsewhere in the region.

Soil Water Regime
The duration of waterlogging is readily reduced by drainage improvements except where outfalls are inadequate. Drained Southminster soils are only occasionally waterlogged (Wetness Class II) but most of the other more permeable soils become well drained (Wetness Class I). Reserves of soil available water are small and crop production is limited by drought in most years but irrigation is widely used.

Cropping and Land Use
Where drained, Southminster, Hurst and Swanwick soils are easy to cultivate and there are long periods in autumn and spring when the land can be worked with little risk of structural damage. Land use is varied. Much of the land is drained and arable crops are widespread. Cereals predominate, but cash crops such as sugar beet are also grown. There is some grassland and there are irrigated market gardens and orchards near Rainham and Southminster. Gravel has been extracted in some places but where land has been restored to agriculture the soils are often compacted and slowly permeable.
In the South East because the soils are low-lying and waterlogged for long periods, much of the land is used as summer pasture and the wettest land is in rough grazing. Where drained, there are plenty of opportunities to cultivate the principal soils in spring and autumn but yields are smaller than average because of droughtiness. Cereal crops are grown on drained land near Reading.
Woodland, some of which may be very old, occurs in Hampshire south-east of Beaulieu and between Brockenhurst and Boldre. It is mainly pedunculate oak but there is some sessile oak and hazel. Wet heathland and acid grassland with cross-leaved heath (Erica tetralix) and purple moor-grass (Molinia caerulea) occur on Ober Heath. Around Whitemoor and near Millyford Bridge there are patches of birch and alder woodland with wet heathland and valley bog. On Bartley Heath in north Hampshire there is humid heathland with cross-leaved heath, ling (Calluna vulgaris), bell-heather (Erica cinerea) and purple moor-grass, much of which has been invaded by birch, willow and oak.

0841b HURST
Typical Landscapes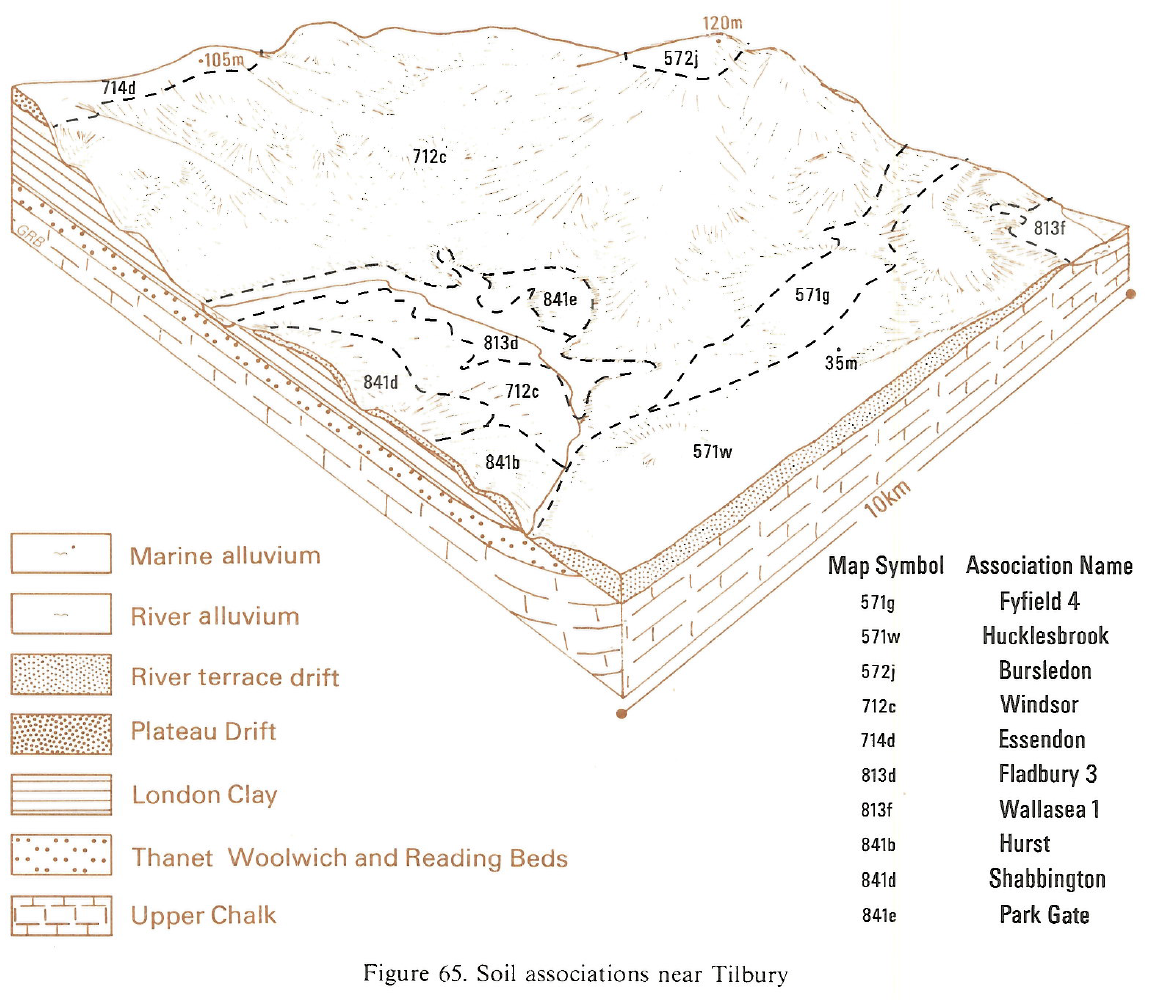 All information Copyright, Cranfield University © 2022
Citation: To use information from this web resource in your work, please cite this as follows:
Cranfield University 2022. The Soils Guide. Available: www.landis.org.uk. Cranfield University, UK. Last accessed 14/08/2022